Modern building codes have forced builders to pay attention to a building's envelope and insulation. Today homes, offices, and businesses can be much more comfortable with the advent of thermostats controls. Thermostat controls help to regulate and control the heat and cooling supplied. Most heating and cooling systems installed by Leggett Inc. are made to cycle less than its competitors. Ideally, these controls cycle about four times per hour, and temperatures can vary between two-four degrees. For every cycle that a system runs, it loses its efficiency. No matter the rating of the efficiency by the government, if your system has been short cycling ever since you have received it, unfortunately, it will never get close to the ratings that it has been given.
Because fuel was inexpensive, historic buildings were built with little or no concern for insulation to retain heat and/or cooling, as well as no regard for airflow. Most buildings contained cinderblock or stone for the foundations, brick or wood for siding, and air gap and plaster for drywall. Comfort control systems needed to be large enough to overcome the massive loss of heating and cooling. In order to prepare for the hottest and coolest days of the year, the systems needed to be sized to make sure that they ran properly. That's where Leggett can help.
Leggett helps you get the best bang for the buck based on what's best for your needs and budget. We take the time to guide you through the process by explaining the different options, investments, return on investments, and how to leverage, utility, government, manufacturers, and financing opportunities.
Running a machine can be compared to driving a car. When driving a car, your mileage is better once you reach your desired speed opposed to stopping and starting frequently. Every time that a machine is started up, there is a lot of wear and tear until it reaches its full speed. The full speed is called the 'steady state,' and this can take up to five minutes to reach.
Most Leggett Inc. customers are thrilled with the fact that they chose variable speed systems that can give them constant comfort and longer cycles that are matched to the buildings heat loss, gain, and the duct work attached to it. We do our best to fix any bottleneck issues in the ductwork so air can be filtered and go through the heat and a/c system, as well as the registers.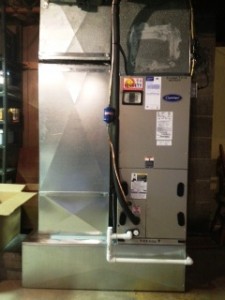 Give us a call at 717-737-4562 or submit a form online today.