Standby generators are a convenient alternative source of electricity during power outages. Because of recent storms and extreme weather, they're quickly becoming a must-have item for Pennsylvania businesses.
A growing number of homeowners are seeking out standby generators, too. Residual damage to power lines from Hurricane Sandy has made power outages more common in Camp Hill, Hummelstown and beyond. Whether you have young children or work from home, a standby generator can help you get through a power outage.
How Standby Power Works
A backup generator provides a convenient source of backup power during a power outage. There are two types of generators: standby generators and portable generators. Although they both provide temporary power, there are big differences in how they function.
A standby generator connects directly to your home or business' electrical system. When a power outage occurs, the standby generator kicks in automatically. It continues to provide electricity until the power comes back on.
Standby generators are ideal for businesses, where a trained operator might not always be on site. They'll allow employees to continue operating computers, cash registers, and equipment. If you need a generator to power equipment or computers when you're not nearby, a standby generator is what you're after.
Another pro of emergency standby generators is fewer fumes. Because portable generators run on gasoline, they tend to emit more fumes than standby generators. By contrast, natural gas and liquid propane are better for your home's air quality.
Portable generators are smaller and lower-cost than standby generators. When a power outage occurs, you can wheel out the portable generator, pour in gas and plug in extension cords to run essential equipment. Because an experienced operator needs to be present, they're usually used to provide power to only the bare essentials.
In general, standby power is more convenient, safer and easier to operate than a portable generator. That's why we recommend standby generators over portable generators in most circumstances.
Although choosing a standby generator can be complicated, the generator itself is straightforward. Here's how it works:
When a power outage occurs, the standby generator automatically takes over, providing power to your electrical circuits. You'll be able to operate all of your appliances and equipment normally.
An experienced installer connects your generator to the natural gas or fuel line in your home or business. When a power outage occurs, the standby generator will be powered by that fuel.
Your standby generator is connected to your circuit panel via a 220 volt electrical line. This allows the generator to power all of your electrical appliances during a power outage.
When the electrical power is turned back on, your standby generator automatically turns off. You'll notice minimal disruptions — if any — in your regular work.
Although DIY home improvement projects are popular, installing a standby generator should be done by an experienced electrician. That's because most of the electrical work needed for a standby generator occurs in the connection between the utility line and your home's circuit panel. This area carries a higher power load than home electrical circuits do, and can't be shut off as easily as a residential circuit.
How Much Power Can a Standby Generator Provide?
The capacity of a standby generator is usually measured in Kilowatts. Home generators range from 7 Kilowatts, which power just a few circuits, to 48 Kilowatts, which can power an entire house for several days.
7 to 11 Kilowatt generators are the smallest model of standby generators for a home. They're generally just slightly larger than a portable generator. Consider these generators if you'd like to power just a few essential circuits.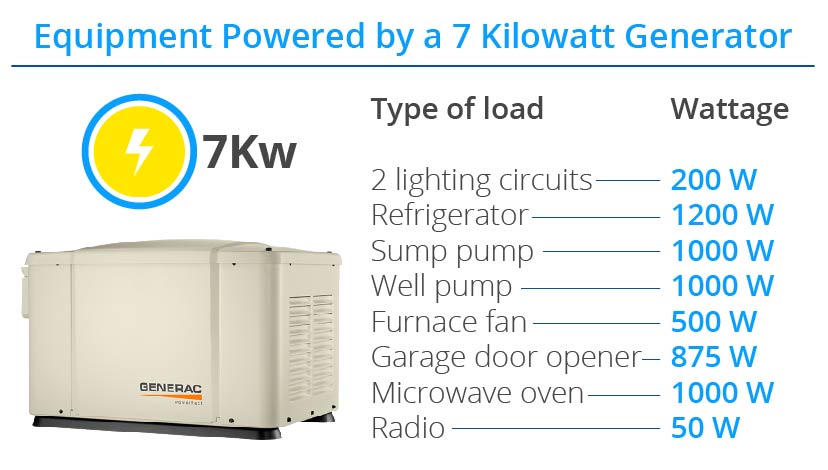 Equipment Powered by a 7 Kilowatt Generator
Type of Load
2 lighting circuits
Refrigerator
Sump pump
Well pump
Furnace fan
Garage door opener
Microwave oven
Radio
Wattage
200 W
1200 W
1000 W
1000 W
500 W
875 W
1000 W
50 W
Twelve to 20 Kilowatt generators are more powerful than the smallest models. They'll provide power for all of the above, plus a few extra comforts. These generators are usually considered mid-range generators, which are equipped with extra features like load-shedding features. This will automatically shut down non-essential circuits when powering up more important equipment.
A 20 Kilowatt generator will comfortably provide power for all of the above appliances. In addition, it will power air conditioning, an oven, a television and computers.

Additional Equipment Powered by a 20 Kilowatt Generator
Type of Load
Electric oven
Television
Laptop
Desktop computer
Central A/C
Wattage
6000 W
300 W
45 W
200 W
2000 W
The largest generators are often called whole house systems. They'll comfortably power an entire house for several days. Although they're more expensive than smaller models, whole-house generators can increase the value of your home significantly.
Along with the equipment powered by both the 7 and 20 Kilowatt generators, above, a whole house system can power a washing machine, dryer and even a jacuzzi bathtub.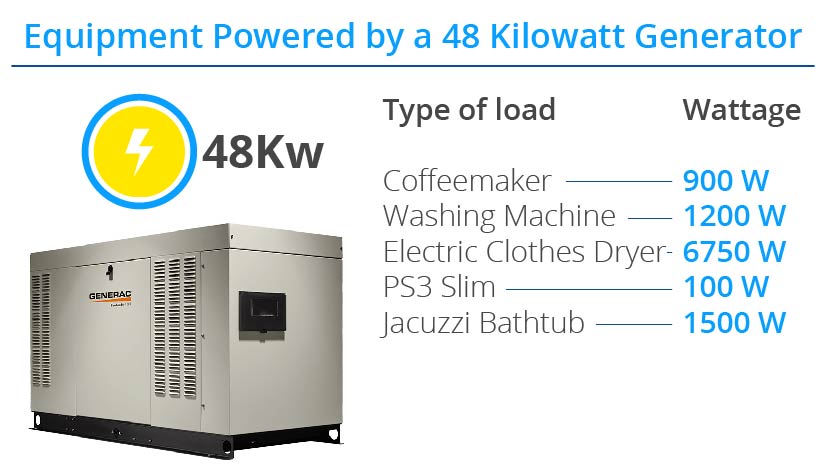 Additional Equipment Powered by a 48 Kilowatt Generator
Type of Load
Coffeemaker
Washing machine
Electric clothes dryer
PS 3 Slim
Jacuzzi bathtub
Wattage
900 W
1200 W
6750 W
100 W
1500 W
Benefits of a Having a Standby Generator
A growing number of homeowners in Harrisburg, Camp Hill, Hummelstown, and beyond are seeking out standby generators. Every household has different reasons for wanting a source of power in an emergency, but all have this in common: they don't want to put their lives on hold for a storm.
Do You Need a Standby Generator for Your Home?
Not everybody needs a standby generator. If any of these situations apply to your home, consider getting a standby generator.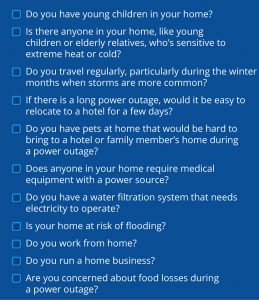 Do you have young children in your home?
Is there anyone in your home, like young children or elderly relatives, who's sensitive to extreme heat or cold?
Do you travel regularly, particularly during the winter months when storms are more common?
If there is a long power outage, would it be easy to relocate to a hotel for a few days?
Do you have pets at home that would be hard to bring to a hotel or family member's home during a power outage?
Does anyone in your home require medical equipment with a power source?
Do you have a water filtration system that needs electricity to operate?
Is your home at risk of flooding?
Do you work from home?
Do you run a home business?
Are you concerned about food losses during a power outage?
Standby generators are a convenient, low impact way to prevent the weather from disrupting your life. Some of the reasons to get an emergency standby generator include:
Keeping your family warm and protected during a storm
Avoiding flood damage by powering sump pumps during flooding
Help young kids stay calm during a storm by keeping the lights on
Provide power for computers so you can work at home comfortably
Power a refrigerator to keep food fresh during a storm
But families aren't the only ones who can benefit from a generator. We're often contacted by business owners who are considering getting a backup generator for their shop. Standby generators can also help keep a business open during a storm.
Business owners cite different reasons for getting a standby generator. Some of the top reasons include:
Staying in Contact with Customers: While businesses without backup power are forced to close during an outage, your business can stay open. A standby generator allows you to respond to customers quickly, which is invaluable during a storm.
Protect Electronic Data: Many businesses today maintain a lot of electronic data. Without a source of backup power, businesses lose access to this data during a storm. It's also possible for power surges to destroy the data entirely.
Prevent Lost Income: A business that closes during a storm or power outage can lose thousands of dollars in income. With a standby generator, you'll be able to stay open. This allows you to continue generating revenue, during a storm.
Choosing the Right Standby Generator for Your Needs
Choosing and installing a standby generator is generally a straightforward process. An electrician can install a 220 volt line that connects your standby generator to the circuit panel in just a few hours. Leggett's experienced electricians can help you set up a standby generator in Harrisburg, Hershey and other Central Pennsylvania regions.
Bonus: Our electricians can help you to determine the right capacity generator for your home or business.
It's also possible to choose a generator yourself. We've put together this list of questions to help you choose the right generator.
How Much Power Do You Need?
When you're choosing a standby generator, one of the first questions to ask is how much power you need. Generac generators provides a handy calculator to help you figure out the right size of standby generator based on your home's square footage.
Determining the right generator capacity for your home depends on what type of equipment you need to run, and how often you plan to run it.
Does Your Home or Business Have a Natural Gas Line or a Liquid Propane Fuel Line?
Because standby generators require a fuel source to run, it's important to consider what type of fuel line goes to your home. Most generators can be powered by either natural gas or propane lines. Many of the Generac generators we install can be powered via either natural gas or liquid propane.
How Sensitive is the Equipment You Plan to Operate?
Electronic equipment is more sensitive than many other types of equipment. If you plan to operate a TV, computer, or sensitive medical equipment, look for a generator that's specifically designed to accommodate this type of equipment.
A good place to start is to look for generators with Generac's True Power™ technology. It has less distortion than other types of generators. This means that sensitive equipment is protected, and provides a better experience for users.
Where Do You Plan to Place Your Generator?
Many building codes place restrictions on where a generator can be placed. Most generators are required to be placed at least a few feet away from your home. This lowers the risk of fires, and prevents any exhaust fumes from entering your home.
If you have limited space, look for a generator that can be placed close to your home. Some generators can be placed as close as 18 inches from the wall of your house. These generators are rated by the National Fire Protection Agency (NFPA) for residential placement.
Do You Need to Monitor Your Generator Remotely?
For many people, remote monitoring is a nice feature, but not essential. For others, remote monitoring is critical. If you travel extensively and need your generator to operate when you're out of town, look for a one that's equipped with remote monitoring.
If this is a concern for you, look for a generator equipped with Mobile Link technology. These features let homeowners check on the generator from a smartphone or tablet to ensure it is operating. If you have kids, elderly relatives, or pets in your home, Mobile Link technology will give you more peace of mind in a storm.
Leggett Inc. has been designing standby generator systems for homes and businesses in Central Pennsylvania for more than 20 years. Our factory-trained electricians can design and install the right standby generator installation for you.
Want to find out more about our electrical services and generator installations? View our range of high quality Generac generators or find out more about our electrical services.
If you'd like to know more about standby generators and emergency power, talk to our team about our newsletters. Leggett's quarterly newsletters are an easy way to get updates about energy efficiency, HVAC tax credits, and how you can improve overall comfort in your home or business.