For After Hours Emergency Plumbing Services, Please Call 717-737-4562
Leggett Inc. has delivered peace of mind with our expert licensed Plumbers for your home or office since 1966. Turn to the experts at Leggett Inc. for the local company with the most experienced, trained, tested, team of professionals for service and repairs of all of your plumbing needs.
Installing plumbing by 'do it yourselfers' has become very popular with the advent of PVC and quick connects. Plumbing can be a real hassle if you don't have the right material when you need it. We have seen many problems due to improper design, installation, repair, and service of plumbing systems. When they are not properly installed, maintained and serviced, plumbing systems can be dangerous and cause carbon monoxide, a deadly poisonous gas, to leak into your home. Improper plumbing hookups can also result in flooding, sanitation, and safety and health issues.
When you turn to the experts, Leggett Inc., for your professional plumbing needs we come to your home or office when promised. We look over the issues you are having, as well as anything we may need to point out. Then give you options for repairs or upgrades so it's up to you to make the choice.
It's best to use a Professional Licensed Plumber for your peace of mind. Leggett has aligned itself with many brands for the fact that they are professional grade, not what you get at the big box store. Moen has many faucets that are professional grade and include a lifetime warranty. Ruud and Rheem have an entire line of professional series water heaters that outlast the others because they are better made, and they have better warranties, if installed professionally. InSinkErator, or ISE garbage disposals are made of steel, not stainless steel.
Leggett Inc. can custom design a bathroom to meet our customer's needs so you can feel comfortable with your decision. We have access the latest products, so we can provide you with peace of mind, for the home or office, and keep the system within most budgets.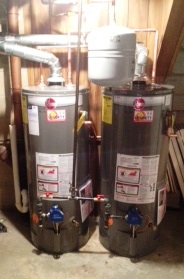 Leggett Inc Plumbing services the Central Pa area including Boiling Springs, Camp Hill, Carlisle, Dauphin, Dillsburg, Duncannon, Enola, Harrisburg, Hershey, Hummelstown, Lemoyne, Lewisberry, Marysville, Mechanicsburg, Middletown, New Cumberland, Newport, Shermans Dale, Summerdale and more!   Don't see your town listed – give us a call at 717-773-4561 we service all of Central PA.